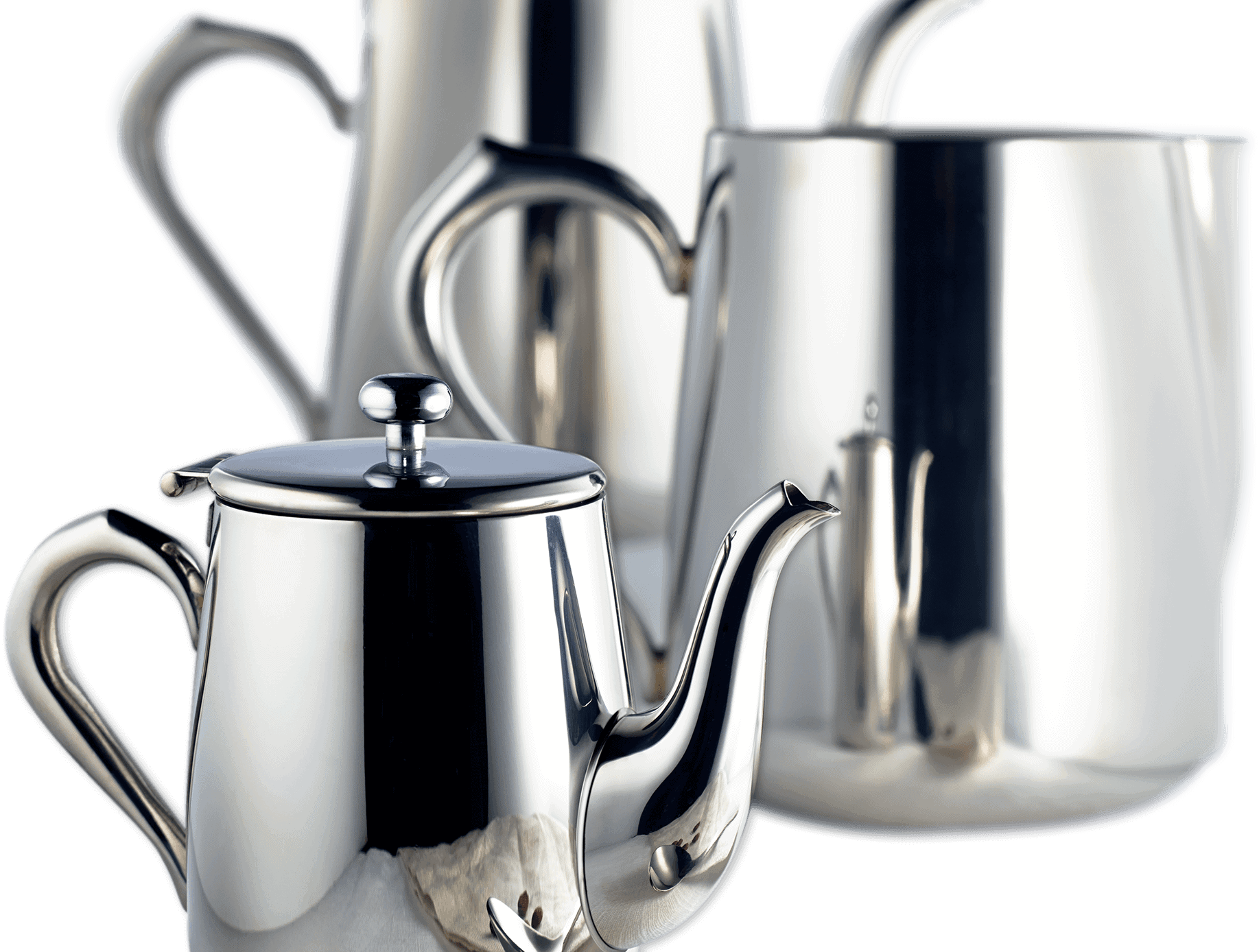 Frequently Asked Questions About Our Commercial Flatware, Dinnerware, Holloware and Accessories.
Do you have "X" in stock?
We have great inventory in our warehouses in New Jersey, shoot us a message via our Contact Form and we'd be happy to give you a call to see if it's in stock!
Do you ever discontinue collections?
Corby Hall will put in writing that we will never discontinue any of our flatware patterns and/or dinnerware collections. This is the single biggest advantage we have over every other tabletop company out there!
Do you sell through "X" distribution?
We can go through any distributor you would like but there are certain distributors that we prefer to deal with because they promote our products. (Such as Wasserstrom, M+J Frank)
Do you make custom plates?
Corby Hall can make custom plates but will need is an editable vector version of your logo or design. Once received, we will create a mockup of the pieces you require and send to you for approval. Once approved, we can provide pricing and have a physical sample made for you to inspect.
What is the difference between 18/10 and 18/0 stainless steel?
18/10 has 18% Chrome and 10% Nickel. The nickel is what you are paying a little more for. Nickel helps keep the flatware's luster and shine longer. 18/10 is the highest graded steel in the food service industry. 18/0 is magnetic but still can have great weight and hold its shine for many years.
Do you make your own products?
Corby Hall is the manufacturer of all their own products. All the Dinnerware is produced in Portugal (European Made) along with half of our flatware patterns. The other half are produced in Vietnam. We do have another factory in England that can produce hand-made flatware by a master craftsman.
Can I get a dinnerware piece in another color / shape / size?
As Corby Hall is the manufacturer of all our products, we may be able to produce a custom piece for your property. Custom pieces require an order volume or 500 dozen minimum. Please contact us to discuss your requirements.
Why is porcelain better than ceramic?
While they are very similar, porcelain is fired at a high temperature which in most cases gets all the air pockets out (denser) of the product. This helps make the product more durable.
Do you have all the flatware pieces in need?
Corby Hall is one of the last few companies to still offer hollow handle knives and fish knives / forks. We have an extensive array of pieces in each pattern and can fulfill whatever pieces you might be looking for.
How long have you been in business?
Do you have a chip warranty?
Corby Hall offers a 3-year chip warranty on all our ROUND, Flat plates and saucers that have a rolled edge on them.
Will your plates turn black or become scuffed?
Corby Hall offers a life-time glaze warranty on all our dinnerware products. This will eliminate all the black metal marks that you are currently seeing with the product you are using now. With that being said, you can't dump or soak the plate in bleach and hope for the glaze to stay on. As for scuffs, it will happen. Its nature of the beast and will happen with ours or anyones products being used.
Will my pattern always be available?
At Corby Hall, we never discontinue products. However, this comes with a disclaimer if you are looking at Portuguese flatware patterns. This pattern is readily available but not as comfortably stocked like other patterns. If your volume is high then please ask your management to bring in some extra stock for your property.
How does Corby Hall compare to Steelite and Fortessa?
We compare ourselves more to Churchill and Rosenthal then Steelite and Fortessa. European made products are different than Far East made products.
How has today's world impacted your business? (I.e. Leads Time)
Unfortunately, logistics is the biggest issue for us right now. Containers in port can take anywhere from days to weeks to receive. With all the dinnerware being made in Portugal, we can receive it fairly easily. Half of the flatware as well. The Vietnam flatware has been issued at the factory but not shipped. Our flatware factory has closed numerous times due to the pandemic.
Is anything you sell made in China?
As far as we are aware, none of our product is made in China.
Can we cook on your product?
Our product is twice fired at over 2300 degrees, which means you can cook on the dinnerware if desired. Duo and Synergy are recommended to do this because of the thickness in the product.
Contact us for a bespoke quotation today!